Code Work Sessions Start Wednesday!
First.. THANK YOU to our Teton County Board of County Commissioners for following through with commitments to the community and scheduling this work session line-up without hesitation. All of the work and time Commissioner Riegel, Commissioner Whitfield, and Commissioner Heneage are putting toward getting a new Land Development Code adopted is very much appreciated and does not go unnoticed!
Below is a schedule for the meeting line-up with links to agenda's and media sources. Agendas are not always available until closer to meeting days/times, so we'll send email updates weekly throughout the work session schedule.
The general format of work sessions will be consistent throughout the process:
● Overview of the topic/educational component.
● Ongoing engagement activity with the online white board.
● Review of all Planning & Zoning Commission comments
   relevant to the chapter discussed.
● Any ongoing discussion items for the specific section.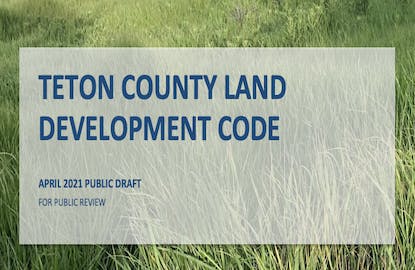 SCHEDULE
Board of County Commissioners
Land Development Code Work Sessions
MEETING #1
Work Session – Chapter 2 / Zoning Districts & Densities
Date: March 2, 2022
Time: 9:00 am
Agenda: HERE
Location: 150 Courthouse Drive, Driggs, ID 83422
Zoom ID: 861 5366 9755
Zoom Link: https://us02web.zoom.us/j/86325636803
To view the live stream of the meeting please visit: http://tetoncountyid.iqm2.com/Citizens/Detail_Meeting.aspx?ID=1899
1. Overview of proposed zoning districts and average density concept
2. Review of PZC Comments on the draft code (#16-41)
3. Any continuing items?
MEETING #2
Work Session
Date: March 9, 2022
Time: 9:00 am
Agenda: HERE
Location: 150 Courthouse Drive, Driggs, ID 83422
MEETING #3
Work Session
Date: March 16, 2022
Time: 9:00 am
Agenda: HERE
Location: 150 Courthouse Drive, Driggs, ID 83422
MEETING #4
Work Session
Date: March 23, 2022
Time: 9:00 am
Agenda: HERE
Location: 150 Courthouse Drive, Driggs, ID 83422
MEETING #5
Work Session
Date: April 13, 2022
Time: 9:00 am
Agenda: HERE
Location: 150 Courthouse Drive, Driggs, ID 83422
Stay informed on Teton Valley's important projects
Get the latest news in your inbox