What's that construction off Packsaddle Road?
What's that construction off Packsaddle Road?
Over the past few weeks, many of you have stopped by our office, called, and emailed, asking us about the large road construction project off Packsaddle Road at the North End of the Big Hole Mountains. You ask. We answer.
What's happening? 
North end landowner Jess Horton has recently approached Teton County with a proposal to construct a "scenic byway" from private funds. This 9-mile byway would run parallel to, and just East of the existing Milk Creek Road along the north end of the Big Hole Mountains.
The byway would traverse along the East side of Horton's 1,376-acre property, through a 40-acre BLM parcel, through neighbor Ron Judy's- 3,200 acre property, and out north to Highway 33.


At recent work meetings, Horton told the Board of County Commissioners (BOCC) that he hopes Teton County would relocate the Milk Creek road to this new road. This would alleviate the steep access up Kay's Hill, and also deflect the public away from traversing down the center of his sensitive property. All existing national forest public access points will be preserved.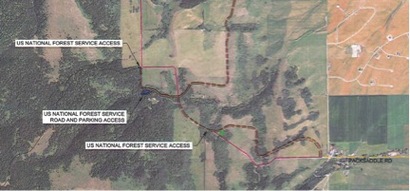 (Click map to view the project area in more detail)

Since Teton County just now hired a new engineer to replace Jay Mazalewski who resigned in August, the county had contracted with Jorgensen Engineering to review this project. However, construction has already begun on this road. It will not be completed until next year.
(Images taken from Teton County Planning Staff report)
Jorgensen has identified a few key issues with the road design. For example, three of the proposed turns are too tight to accommodate farm vehicles, and Mr. Horton needs to provide written plans for preserving access to neighboring landowners. Teton County has established this webpage where they are posting all pertinent documents.
A bit of history:

Citing chronic public trespassing problems, neighboring landowner to the north Ron Judy applied to vacate the Milk Creek road in 2008. VARD first supported the proposal to vacate this road, but then offered more directed critical comments when more information came to light about what vacating this road would entail, including limiting public access and passage through the north end of the Big Hole Mountains. That proposal to vacate the Milk Creek Road was ultimately unanimously denied by the previous County Commissioners Rinaldi, Benedict, and Young.
Is this road work a precursor to a development proposal for this area?
Back in 2008 and 2009, these landowners were designing a large, low-impact development proposal for this area, which was never formally submitted for approval. Today, no development proposals have been submitted to Teton County, nor has staff been told of anything pending.
In addition, the design of this new road will not be able to accommodate future residential development. At their Oct 27, 2014 work meeting, County Planner Jason Boal advised the BOCC that this new road proposed by Mr. Horton was being built to a 25mph "local" road standard. This means it will not be possible to expand the capacity of this road in the event that the landowner wants to later develop the property. The Board did not object to this: "I'm OK with limiting development up there, to tell you the truth." said Commissioner Rinaldi.
To which, Boal agreed: "If and when development ever happens out there, the ability to expand that road is severely limited. And I'm OK with that. I just wanted to make sure that we're all on the same page." And again, the BOCC agreed.
This means that if landowners in this area were to later submit a development proposal, at that time, it would go through the mandatory agency review, public hearing, and county approvals process. Any future developments will also still need a viable access road – which can be expensive to build. One option is that the original Milk Creek road that traverses down the middle of Mr. Horton's property could be improved to county standards at the landowner's expense, or some other access road would need to be platted and built.

What happens next?
If Teton County decides to relocate the Milk Creek road to this new road, it will go through the public comment and hearing process. If this happens, it's not yet clear whether the original Milk Creek road would be vacated and re-vegetated, or simply maintained by Mr. Horton as a private road. We will notify you if and when there is a hearing.

What YOU can DO in the mean time:
If you have questions or comments in the mean time, you can submit them to the Teton County Planner Jason Boal and also the Board of County Commissioners.
pzadmin@co.teton.id.us

commissioners@co.teton.id.us
Some issues to consider if you are submitting comments:

A good thing. At their last meeting, the BOCC unanimously agreed that this road could be a vast improvement over the current two-track Milk Creek road if properly designed and built.
Wildlife: Idaho Fish & Game (IDFG) has not yet provided comments on this road project, but the county can request input from them at any time. The public can also request that the county seek IDFG's input on wildlife impacts.
The need for site disturbance permits: Mr. Horton began road construction prior to county engineer review of this project because Teton County does not have ordinances governing the disturbance of soil and earth. This means that technically, private lands can be razed without any county regulatory oversight. By contrast, other communities have adopted "site disturbance" permit procedures which are required in order to move large areas of earth like this. Teton County currently lacks such permit requirements, but they could be drafted into the new Land Use Code that is currently in process.
Trail easement: Mr. Horton has stated his intention to dedicate a public "trail easement" along the side of this road, but these important details still need to be fleshed out and properly confirmed in writing.